When you think of Asian-American basketball player overcoming racial discrimination, chances are, Jeremy Lin is the first name that pops in your head.
When you hear talk of 22 points in 6 minutes and 30 seconds, the answer is easy: Stephen Curry.
How about 12 points in 90 seconds? Or 31 points in 27 minutes? 13 of your team's final 25 points?
"Fireball is my nickname," Josh Urbiztondo, 30, recently told me at the 2013 NBA Global Games in Manila. A native of San Mateo, California, Urbiztondo is currently the point guard for the Philippines Basketball Association's (PBA) Barangay Ginebra San Miguel team.
Legends of Urbiztondo's scoring outbursts should come as no surprise to people familiar with the "underground" Asian-American amateur basketball circuit. Back in 2008 in a tournament run by my colleague Brian Yang for Dream League (disclaimer: I run said organization), called the Gotham Games and held near Princeton University, Urbiztondo scored 28 points in one quarter, 42 in total, against one of the most experienced and seasoned traveling tourney teams on the East Coast, the New York Cruisers, en route to the championship.
Granted, that particular performance was against amateur players, but Urbiztondo always left an impression on those who saw him play and those who played against him.
As Yang wrote in his recap of the tournament, Urbiztondo "had the gym abuzz with, 'You see that guy pull a 'Melo?' — what with Carmelo Anthony going off for 33 (points, then with the Denver Nuggets) in a single period a mere days before (the tournament)."
In one game in the San Francisco Pro-Am Summer League, Urbiztondo got on another hot streak against a team led by NBA veteran shooting guard/small forward Matt Barnes. It got so bad, the team put the six-foot-seven-inch Barnes on the relative diminutive Urbiztondo to try and curb his shot with Barnes's long arms.
"I killed him," said Urbiztondo, who ended up with 28 points that night, aided by an array of lightning-fast dribbling, "stop-and-pop" jumpers, and quick feet and hands for steals.
"I remember that, that was a playoff game. He was giving off buckets, man," said Orlando Johnson (6'5″, 220 lbs) today after NBA Global Games Taipei practice for the Indiana Pacers, "Josh could play. I remember how we used to be running the table when we played for Bay Pride."
The half-Caucasian Urbiztondo is generously listed at 6'0″ on PBA rosters and did not really blossom as a scorer until well into his college career with Fresno-Pacific University. At the time and thanks to his father's native Filipino name, the only scouts that were tracking him as a potential pro were people tied to agents from the Philippines.
Said Urbiztondo, "They saw my last name and my scoring average in college," which was around thirteen points per game, translating well enough for a look by those close with the PBA.
So Urbiztondo soon got the call, getting drafted in the PBA's aptly named "D-League" developmental league, a stepping-stone for Filipino-Americans hoping to get noticed by the PBA itself. Successful players in the PBA D-League, which lasted one year, then get drafted into the PBA.
That summer of 2008, Urbiztondo would leave his hometown Peninsula behind and head to the Philippines on a stipend of just four hundred U.S. dollars per month.
Urbiztondo led his team to a championship victory, got named to the so-called "Top Five Mythical Team", which is essentially a position-by-position all-PBA-D-League team, was named Top Defensive Player, had great stats, was the consensus number one performer, and was poised to be a high pick in the upcoming PBA Draft.
20131012_urbiztondo_ginebra_3_medium
"Everyone told me that I'd be a Top Three pick," said Urbiztondo, but at the time, he had not signed with an agent yet. He soon learned how big of a mistake that would be, and he would learn the hard way of what forces were working against him.
Agents do the behind-the-scenes marketing and politicking among the ten PBA owners and general managers to get their clients signed. Sometimes owners do not necessarily know what was going on at camp unless they were talking to people who were there. No one was building any hype for Urbiztondo.
Similar to Lin's path to the NBA, Urbiztondo had heretofore relied on advancement based on merit. Being an American-born Filipino did not help his cause either.
In the PBA, there are only ten teams. In a population of one hundred million, the percentage of native Filipinos who make the league is equivalent to that in the United States who make the NBA, which has thirty teams in a population of roughly three hundred million. PBA spots are hard to come by and potential players who were born in the Philippines can often view Fil-Ams, such as Urbiztondo, as a threat.
So when the Draft came along and pick after pick his name was skipped, Urbiztondo was left in shock of the snub.
There was also a rumor that, with draft picks getting a set salary according to when they were picked, Urbiztondo could get signed for cheaper if left as an unsigned free agent.
"I didn't know what to do," said Urbiztondo, recalling his plight after spending a year playing his tail off, scraping by in a third-world country with no family, few friends — a veritable foreigner in his own ancestral country — and barely enough money to live on.
Luckily, one team came calling: the Santa Lucia Realtors, who had had only one draft pick and spent in on another player they had already coveted. Not signed yet, Urbiztondo had no choice but to show up at a Realtors practice. Within one week, he was signed to a contract for two years, making an annual equivalent of over six figures in U.S. dollars.
Similar to the famous on-the-ropes "Linsanity" run of games for Lin, the Realtors had no incumbent point guard available, so Urbiztondo got a lot of exposure running the point. He had a break out first PBA season, leading the team in so-called "Statistical Points" (an amalgamation of stats used by the PBA to put a number on the best player of teams, similar to John Hollinger's PER calculation) and being a likely candidate for Rookie Of The Year.
Alas, another rookie garnered the award, as he played for the championship team. In the Philippines, Urbiztondo would soon realize that, like in the NBA, awards generally get passed out to players who are known for their contributions to championship teams.
In Part Two, we will take a look at Urbiztondo's path towards PBA veteranship, his maturity and professionalism in the sport of basketball, and his personal life and how he has become roughly and ironically parallel to the Steph Curry of the Philippines.
Fil-Ams back in the States can certainly be proud of the selection of home metropolis Manila as a host site for the 2013 NBA Global Games, but just as people with Chinese or Taiwanese ethnicity are proud of the Jeremy Lin overcoming his own challenges and discrimination, so eloquently described in his Linsanity documentary, so too can Fil-Ams and native Filipinos be proud of Urbiztondo's triumph as one of the premier and electrifying point guards in the PBA.
Source: http://www.goldenstateofmind.com/2013/10/12/4830384/nba-global-games-manila-josh-urbiztondo-has-had-a-jeremy-lin-like-journey
It didn't take long for newly-minted head coach Jeffrey Cariaso to secure his first win in the PBA, after Barangay Ginebra San Miguel made quick work of GlobalPort, 89-71, in PLDT Home TVolution Telpad action on Tuesday at SMART-Araneta Coliseum.
A day after turning 26, Greg Slaughter finished with 19 points and 17 rebounds for Ginebra in Cariaso's coaching debut.
"Greg is your perfect triangle center, he's real strong and real big. Obviously there's a mismatch today, he just opened it up for everybody else," said Cariaso.
Slaughter and import Zaccheus Mason dominated down low to key a quick 9-2 run in the third quarter to push the lead to 14 points, 68-54.
The frontcourt duo continued to pounce in the fourth quarter as the Gin Kings doused water on any GlobalPort uprising.
Cariaso took over for Ginebra after almost three seasons as an assistant coach with the San Mig Super Coffee Mixers under coach Tim Cone. The Gin Kings showed glimpses of the triangle offense, the vaunted system preferred by Cone.
"What impressed me so far is just the guys willing to run the triangle. It's not easy to run, not easy to get disciplined when you fell nothing's happening, but with that, so far, I'm happy with how my guys are performing," said Cariaso.
But they really made their hay on the defensive end, where they made life difficult for GlobalPort's top guns. Import LeRoy Hickerson and Alex Cabagnot combined for 51 points, while the rest of the Batang Pier had just 20.
The scores:
GINEBRA 89 – Mason 21, Slaughter 19, Caguioa 15, Ellis 10, Aguilar 8, Baracael 7, Monfort 3, Reyes 2, Helterbrand 2, Mamaril 2, Knuttel 0, Tenorio 0, Urbiztondo 0.
GLOBALPORT 71 – Hickerson 30, Cabagnot 21, Washington 6, Macapagal 5, Salvador 4, Garcia 3, Menk 2, Matias 0, Taha 0, Ponferrada 0, Salva 0.
Quarters: 18-14, 41-39, 68-56, 89-71
Source: http://www.interaksyon.com/interaktv/jeffrey-cariaso-makes-winning-debut-as-ginebra-wallops-globalport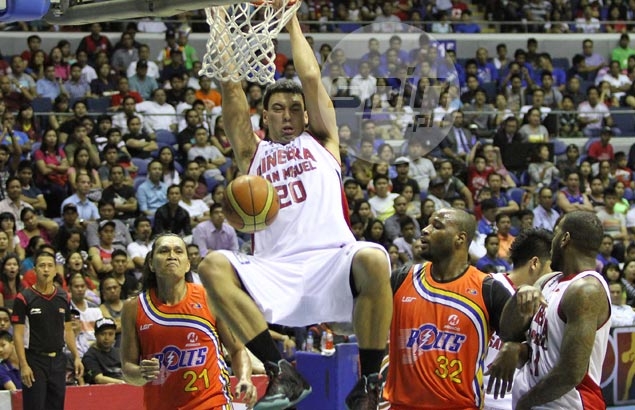 Greg Slaughter was named the game's Best Player after finishing with 15 points and seven rebounds for Ginebra in the win over Meralco. Photo by Jerome Ascano

ALMOST everybody's attention was on new Ginebra import Josh Powell – that is, until Chris Ellis stole the show in the end.
The high-flying sophomore put on a show while a winded Powell dragged his feet in the endgame, putting together a blazing scoring run that carried Ginebra past Meralco, 88-78, on Wednesday night in their PBA Commissioner's Cup clash at the Smart Araneta Coliseum.
Ellis was all over the floor in the endgame of a match that was supposed to be a showcase for Powell, the two-time NBA champion with the Los Angeles Lakers who raised hopes for a Ginebra resurgence when he came in for a misfiring Leon Rodgers.
However, Powell, who arrived on Tuesday morning, looked in no shape to carry the fight for the Gin Kings, who instead turned to Ellis and Greg Slaughter to end a two-game skid and raise their record to 3-4 (win-loss).
The game was still very much in the balance when Ellis finished off a fastbreak, hit two free throws, then made back-to-back three-pointers from both sides of the court to hand Ginebra an 86-73 lead with 46 seconds to go.
Slaughter, on the other hand, held his own against debuting Meralco import Darnell Jackson inside the paint, scoring 11 of his 15 points in the second half to go along with seven rebounds in what his best performance for the conference thus far.
Powell shook off jet lag to finish with 16 points, 15 rebounds, two assists, two steals and two blocks in his PBA debut.
"We did a good job especially on defense. We were able to stop their second chance points and fastbreak. Saka target namin was to limit them to 78 points, maganda talaga defense namin," said a beaming Ginebra coach Ato Agustin after the game.
Prior to this game, Ginebra was giving up an average of 100.6 points against opponents. But with Slaughter and Powell patrolling the shaded lane, the Kings held the Bolts to 22 points less that total.
Jackson, a former NBA veteran, debuted with 25 points and 18 rebounds, but the 28-year-old former Kansas standout eventually tired out in the end.
Ellis added 16 for the Gin KIngs, while Mark Caguioa had 13. LA Tenorio and Josh Urbiztondo chipped in 10 points apiece in a balanced scoring attack for the Gin KIngs.
Ginebra's win also booted GlobalPort (0-7) from the playoff picture.
The scores:
Ginebra 88 – Powell 16, Ellis 16, Slaughter 15, Saguioa 13, Urbiztondo 10, Tenorio 10, Aguilar 3, Helterbrand 3, Baracael 2, Mamaril 0.
Meralco 78 – Jackson 25, David 18, Dillinger 11, Hugnatan 9, Hodge 9, Caram 3, Al-Hussaini 2, Artadi 1, Ildefonso 0, Sena 0, Guevarra 0, Wilson 0, Mandani 0.
Quarterscores: 27-21; 44-40; 63-60; 88-78
Source: Rich Dy
http://www.spin.ph/sports/basketball/news/air-force-ellis-steals-show-from-powell-with-blazing-finish-as-ginebra-stops-the-bleeding-with-win-over-meralco-v02