Archive for the 'ginebra' Category
It didn't take long for newly-minted head coach Jeffrey Cariaso to secure his first win in the PBA, after Barangay Ginebra San Miguel made quick work of GlobalPort, 89-71, in PLDT Home TVolution Telpad action on Tuesday at SMART-Araneta Coliseum.
A day after turning 26, Greg Slaughter finished with 19 points and 17 rebounds for Ginebra in Cariaso's coaching debut.
"Greg is your perfect triangle center, he's real strong and real big. Obviously there's a mismatch today, he just opened it up for everybody else," said Cariaso.
Slaughter and import Zaccheus Mason dominated down low to key a quick 9-2 run in the third quarter to push the lead to 14 points, 68-54.
The frontcourt duo continued to pounce in the fourth quarter as the Gin Kings doused water on any GlobalPort uprising.
Cariaso took over for Ginebra after almost three seasons as an assistant coach with the San Mig Super Coffee Mixers under coach Tim Cone. The Gin Kings showed glimpses of the triangle offense, the vaunted system preferred by Cone.
"What impressed me so far is just the guys willing to run the triangle. It's not easy to run, not easy to get disciplined when you fell nothing's happening, but with that, so far, I'm happy with how my guys are performing," said Cariaso.
But they really made their hay on the defensive end, where they made life difficult for GlobalPort's top guns. Import LeRoy Hickerson and Alex Cabagnot combined for 51 points, while the rest of the Batang Pier had just 20.
The scores:
GINEBRA 89 – Mason 21, Slaughter 19, Caguioa 15, Ellis 10, Aguilar 8, Baracael 7, Monfort 3, Reyes 2, Helterbrand 2, Mamaril 2, Knuttel 0, Tenorio 0, Urbiztondo 0.
GLOBALPORT 71 – Hickerson 30, Cabagnot 21, Washington 6, Macapagal 5, Salvador 4, Garcia 3, Menk 2, Matias 0, Taha 0, Ponferrada 0, Salva 0.
Quarters: 18-14, 41-39, 68-56, 89-71
Source: http://www.interaksyon.com/interaktv/jeffrey-cariaso-makes-winning-debut-as-ginebra-wallops-globalport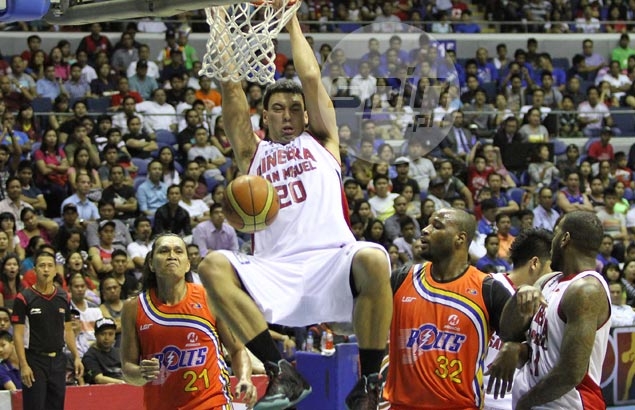 Greg Slaughter was named the game's Best Player after finishing with 15 points and seven rebounds for Ginebra in the win over Meralco. Photo by Jerome Ascano

ALMOST everybody's attention was on new Ginebra import Josh Powell – that is, until Chris Ellis stole the show in the end.
The high-flying sophomore put on a show while a winded Powell dragged his feet in the endgame, putting together a blazing scoring run that carried Ginebra past Meralco, 88-78, on Wednesday night in their PBA Commissioner's Cup clash at the Smart Araneta Coliseum.
Ellis was all over the floor in the endgame of a match that was supposed to be a showcase for Powell, the two-time NBA champion with the Los Angeles Lakers who raised hopes for a Ginebra resurgence when he came in for a misfiring Leon Rodgers.
However, Powell, who arrived on Tuesday morning, looked in no shape to carry the fight for the Gin Kings, who instead turned to Ellis and Greg Slaughter to end a two-game skid and raise their record to 3-4 (win-loss).
The game was still very much in the balance when Ellis finished off a fastbreak, hit two free throws, then made back-to-back three-pointers from both sides of the court to hand Ginebra an 86-73 lead with 46 seconds to go.
Slaughter, on the other hand, held his own against debuting Meralco import Darnell Jackson inside the paint, scoring 11 of his 15 points in the second half to go along with seven rebounds in what his best performance for the conference thus far.
Powell shook off jet lag to finish with 16 points, 15 rebounds, two assists, two steals and two blocks in his PBA debut.
"We did a good job especially on defense. We were able to stop their second chance points and fastbreak. Saka target namin was to limit them to 78 points, maganda talaga defense namin," said a beaming Ginebra coach Ato Agustin after the game.
Prior to this game, Ginebra was giving up an average of 100.6 points against opponents. But with Slaughter and Powell patrolling the shaded lane, the Kings held the Bolts to 22 points less that total.
Jackson, a former NBA veteran, debuted with 25 points and 18 rebounds, but the 28-year-old former Kansas standout eventually tired out in the end.
Ellis added 16 for the Gin KIngs, while Mark Caguioa had 13. LA Tenorio and Josh Urbiztondo chipped in 10 points apiece in a balanced scoring attack for the Gin KIngs.
Ginebra's win also booted GlobalPort (0-7) from the playoff picture.
The scores:
Ginebra 88 – Powell 16, Ellis 16, Slaughter 15, Saguioa 13, Urbiztondo 10, Tenorio 10, Aguilar 3, Helterbrand 3, Baracael 2, Mamaril 0.
Meralco 78 – Jackson 25, David 18, Dillinger 11, Hugnatan 9, Hodge 9, Caram 3, Al-Hussaini 2, Artadi 1, Ildefonso 0, Sena 0, Guevarra 0, Wilson 0, Mandani 0.
Quarterscores: 27-21; 44-40; 63-60; 88-78
Source: Rich Dy
http://www.spin.ph/sports/basketball/news/air-force-ellis-steals-show-from-powell-with-blazing-finish-as-ginebra-stops-the-bleeding-with-win-over-meralco-v02

Photo by Nuki Sabio
Barangay Ginebra San Miguel pulled through with a 94-91 thriller over the San Mig Super Coffee Mixers in Game Six of their PLDT Home DSL Philippine Cup semifinals series on Monday at SMART-Araneta Coliseum.
The win forced a do-or-die Game Seven in their Manila Clasico semifinals series on Wednesday for the right to face Rain or Shine in the championship round.
The Mixers controlled the first half, opening up a 50-41 spread behind their energetic second unit of Mark Barroca and Justin Melton.
But Ginebra, led by stars Mark Caguioa and LA Tenorio, came roaring back, even taking a 78-77 lead.
Instead of panicking, Pingris took over for San Mig Coffee, repeatedly scoring inside over Ginebra's taller defenders.
San Mig Coffee still led, 84-79, before the Gin Kings unleashed a 9-2 run to take an 88-86 advantage.
Peter June Simon responded with a three-point play over Greg Slaughter to give the Mixers back the edge with two minutes remaining.
LA Tenorio missed an open three-point attempt in the ensuing possession. James Yap missed his own shot from long distance on the other end, but Simon recovered possession for a putback jumper for a 91-88 lead.
The Gin Kings were in trouble in their next play, before Slaughter hit a tough jumper while drawing a foul from Rafi Reavis.
Slaughter missed the bonus free throw, but Ginebra was able to recover the offensive rebound.
Barroca missed an open three-pointer in San Mig Coffee's next play, and Yap was called for a foul on Caguioa on the rebound.
The 2012 PBA Most Valuable Player nailed both free throws for a 92-91 Ginebra lead with 16.2 seconds remaining.
Simon missed a shot to tie the game, and Slaughter nailed two more free throws for a three-point lead with two seconds left.
Slaughter finished with 20 point and 11 rebounds for the Gin Kings.
Source: http://www.interaksyon.com/interaktv/never-say-die-ginebra-survives-san-mig-coffee-forces-manila-clasico-game-seven